Call now to book your stay:
Mansfield Cabins
1431 Hicks Cave Rd, Mansfield, Missouri 65704
Reservations: (417) 924-1345 or booking@mansfieldcabins.com
Relax and unplug at our cozy, rustic vacation cabins in the Ozarks, just 2 minutes from the Laura Ingalls Wilder house and 15-20 minutes from Baker Creek Seeds and SMORR.
All cabins are completely equipped with bedding, linens, and toiletries for your comfortable stay.
Standard cabins have a full size bed and queen futon, OR two twin beds and queen futon, plus a

kitchenette with fridge, sink, microwave, Keurig coffee maker, and toaster (no stove/oven)

Premium cabins (coming 2024) will have a queen bed, a full bed, AND a complete kitchen with cooktop, pots and pans, sink, fridge, microwave, Keurig coffee maker, toaster
All cabins have fully stocked bathrooms including shower/tub, towels, and toiletries

Heating and air conditioning

Back decks with beautiful views!
Rates start at $100/night for the first person and $10 per additional person, max 4 total guests. Each cabin can sleep 1-4 people. We have a pet-friendly cabin option, and a place to park your trailer if you're here for off-roading. All cabins are non-smoking and do not have TV or wifi. Books and puzzles provided!
Come unwind in one of our cozy hilltop cabins backed by acres of lush woods. You'll find open meadows in front and to the side of the cabins where you can have a bonfire in our large fire pit, or enjoy the view from your deck over Fry Creek and our seasonal pond.
We are just a 1/2 mile off the main highway and 5 minutes from the Mansfield town square – close enough to be convenient, far enough to feel the peace of the Ozarks surround you.
We are looking forward to your stay!
Reservations: (417) 924-1345 or booking@mansfieldcabins.com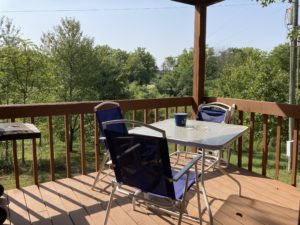 You're going to love it here – call or email today to book your vacation.
Call to book: (417) 924-1435
We're on Instagram! Find us by clicking the middle icon below.